metalworkingmag.com
Written on Modified on
DSB TECHNOLOGIES DRIVING METAL BINDER JETTING INTO PRODUCTION WITH X-SERIES LINEUP
DSB has adopted Desktop Metal's complete X-Series metal binder jetting lineup at its Wisconsin headquarters, which processes more than eight million pounds of powder into parts annually with both traditional and additive technologies.
Paul Hauck, Chief Operating Officer for DSB Technologies, based in Janesville, Wisconsin, explains why the company has adopted the entire line of Desktop Metal X-Series metal binder jetting 3D printers for the production of metal parts. Behind Hauck are the Desktop Metal X160Pro and, far left, the X25Pro. DSB is an experienced producer of metal parts with sinter-based technologies such as metal injection moulding (MIM) and powder metallurgy (PM) — processing more than eight million pounds of powder into parts annually. (Photo: Business Wire)

Desktop Metal announced that Wisconsin-based DSB Technologies (DSB), a leader in high-quality metal part production with sinter-based technologies such as powder metallurgy (PM) and metal injection moulding (MIM) has now adopted the complete X-Series metal binder jetting product lineup, including Live Sinter software, from Desktop Metal.
As shown in a new customer video, DSB is now developing and delivering customer parts with the InnoventX, X25Pro and X160Pro from Desktop Metal for a range of metals, including 316L and 17-4PH stainless steels, 4140 and M2 Tool Steel. It also plans to adopt Desktop Metal binder jetting for aluminium in the future. The video is available at TeamDM.com/DSB.
Based in Janesville, Wisconsin, DSB is home to more than 30 high-temperature continuous sintering furnaces — believed to be North America's largest installed capacity — as well as post-processing technology to support volume production in metal binder jetting. Of the eight million pounds of metal powder processed by DSB annually, about 90% are grades of stainless steel. DSB currently serves the aerospace, automotive, defence, electronics, industrial, medical, and sports equipment markets.
What is Metal Binder Jetting?

In binder jetting, an industrial printhead selectively deposits a binder into a bed of powder metal particles creating a solid part one thin layer at a time. When printing metal powders, the final bound metal part must be sintered in a furnace to fuse the particles together into a solid object. DM printers deliver high densities of greater than 97% for most metals, in line or better than MIM or gravity castings, depending on the metal.
Binder jet 3D printing technology is widely viewed as a desirable and sustainable production method, largely because of its high speed, low waste and cost, as well as material flexibility. DM printers also binder jet sand and ceramics in high-volume, serial production applications today.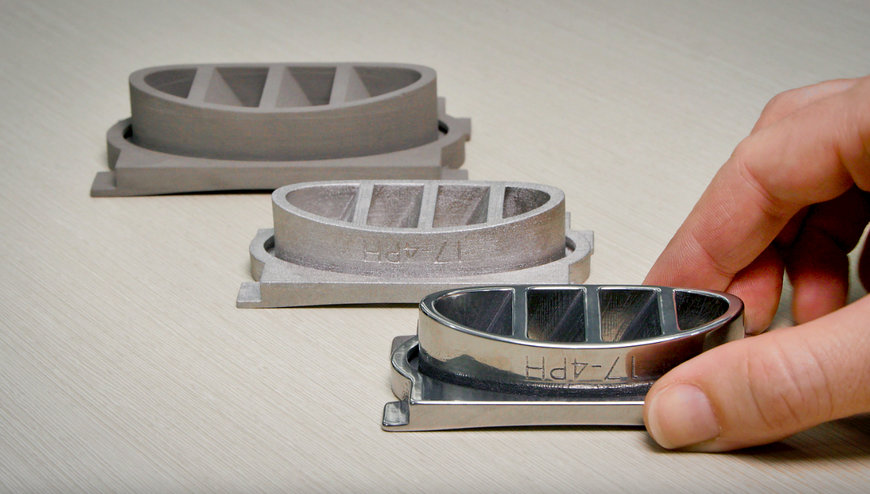 DSB Technologies is now forming metal parts, such as the vent application shown here, with metal binder jetting technology from Desktop Metal. The part at the top shows a "green" 17-4PH stainless steel part out of the printer, and the middle part shows the same part immediately after sintering in a furnace. The final part is shown polished. (Photo: Business Wire)

DSB has been phasing in Desktop Metal's binder jetting technology over the past few years. First installed in 2021, the InnoventX lab-sized printer is used for material development and testing initial sintering parameters. The X25Pro, installed in 2022, allows the team to scale those successful tests up to application development in a mid-size machine that is also capable of bridge production. The X160Pro, installed in 2023, offers the largest build volume to take applications to serial production.
www.desktopmetal.com