metalworkingmag.com
Written on Modified on
GF MACHINING SOLUTIONS News
GF Machining Solutions shows its expertise in "Design for Manufacturing" and how its combination of solutions can improve the complete manufacturing chain. Increased productivity and quality with the new DMP Flex and Factory 350 Dual is promoted together with 3D Systems. Other highlights are the DMP Factory 500, multiple large applications and unique parts produced in an optimized workflow.
The new DMP Flex 350 Dual increased productivity and quality and has reduced variability and production costs.

GF Machining Solutions' AM Ecosystem, displayed at Formnext, is a turnkey solution for true 24/7 additively manufactured part production, from operator training to serial production. This comprehensive solution increases production capacity and throughput and can easily be integrated with conventional manufacturing equipment. It consists of Direct Metal Printing (DMP) systems, designed for serial production of high-quality parts, the innovative, horizontal wire-cutting EDM machine CUT AM 500, System 3R Tooling for AM for improved productivity and flexibility, Milling solutions for finishing operations, the all-in-one software 3DXpert
®
and Laserform
®
parameters.
Recent developments on the DMP Flex and the Factory 350 metal 3D printers have led to increased productivity and quality while reducing variability and production costs. The two lasers in the machines help reduce build time by up to 50% and lower cost. These latest additions to the DMP portfolio, developed together with GF Machining Solutions' partner 3D Systems, maintain the benefits of the single-laser configurations including flexible application use, quick-swap build modules (DMP Flex 350 Dual) and integrated powder recycling (DMP Factory 350 Dual).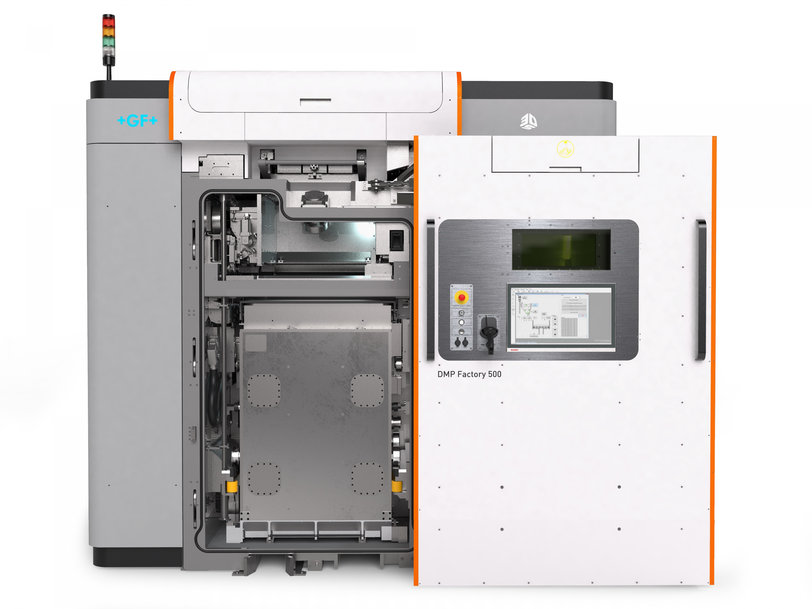 The Removable Print Module (RPM) shows the unique modular concept of the DMP Factory 500.

The DMP Flex 350 Dual and DMP Factory 350 Dual can help accelerate innovation for a variety of applications including devices for the Medical and Aerospace segments, turbomachinery, semiconductors and devices for Automotive and Motorsports. Both machines are presented at Formnext in Hall 12, Booth E39 (GF Machining Solutions) and Hall 12.1, Booth D10 (3D Systems).
Another highlight from GF Machining Solutions at Formnext is the Removable Print Module (RPM) of the DMP Factory 500, a workflow-optimized metal 3D printing solution for massive scalability, repeatable high-quality parts, high throughput and low Total Cost of Ownership, which produces parts with a build volume up to 500 x 500 x 500 mm (height inclusive build plate).
The optimized turbocharger for Formula one helps customers in Motorsports achieve an optimized performance. This application is a very good example of GF Machining Solutions' unique expertise in "Design for Manufacturing" and the AM Ecosystem.

There is a clear need in the market for larger printers being able to produce larger parts. However, the challenges related to this are much more complex than the ones related to mid-size machines (e.g. the large amount of powder needed, the handling of heavy parts, the thoughtful management of laser balancing and overlapping and a high process stability needed). At Formnext, GF Machining Solutions will show multiple unique AM parts, printed with the best achievable quality and tackling traditional challenges.
The parts are an aerospace heat exchanger and a satellite component built in aluminum, an optimized Industrial Gas Turbine (IGT) component built in Hastelloy, a turbine rear vane printed in Inconel and a unique Oil and Gas demo part printed with 120-μm layer thickness. This latest application shows a drastic improvement of productivity without adding more lasers, while maintaining a very high part quality.
The printing of large IGT components represents key challenges. The DMP Factory 500 is the best-in-class solution for such applications.

On the booth, GF Machining Solutions presents applications that highlight the benefits of the GF AM Ecosystem and the company's unique expertise. Four different applications and their complete manufacturing process will be displayed, including all relevant additive and subtractive technologies. These are a turbocharger for Formula one, shoulder implants and a pipette mold for the Healthcare segment, and a tire mold segment, which is built with a unique approach to reduce manufacturing costs. The pipette mold insert has been printed in Boehler AMPO M789 – a new material co-developed with 3D Systems, a hard, corrosion-resistant cooling steel for advanced applications for the Healthcare or Packaging segments.
Experts of the AMotion Center, a customer and a partner of GF Machining Solutions, will be on the booth at Formnext in order to present their solutions to support companies in Aerospace,Energy or Motorsports in developing AM applications or integrating AM technology into their factories.
www.gfms.com